Happy Fall, Y'all!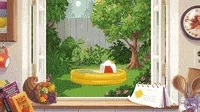 This is my absolute favorite time of the year for many reasons: the fashion, crisp air, colorful leaves, and most importantly … the baking.
There is something about baking in the fall that just feels so special to me. I love the in season fruits and vegetables during this time of the year, and the second the first leave hits the ground…the fall baking bug strikes me again!
This weeks recipe is a new creation and now a personal favorite of mine (and my roommates), AND GET THIS! It's healthy!!! AHHH
---
Pumpkin Chocolate
Chip Cookies!
Prep Time: 10 minutes 
Cook Time: 20 minutes 
Total Time: 30 minutes
Dry Ingredients:


Plain Instant Oatmeal - 1 cup
Plain Old Fashioned Oats - 1/2 cup
Baking Soda - 3/4 Teaspoon
Cinnamon - 1 Tablespoon
Salt - Pinch
Chocolate Chips (Semi-Sweet or Dark) - 1/2 Cup
Pumpkin Seeds (Optional) - 2 Tablespoons
Wet Ingredients:


Light Brown Sugar - 4 Tablespoons
Egg - 1 Egg
Pumpkin Puree - 1/2 Cup
Coconut Oil (Cold Pressed) - 1/2 Cup 
Vanilla Extract - 1/2 Tablespoon
Directions
Preheat the oven to 350'F degrees
Take 3/4 cup plain instant oatmeal, and blend in a food processor or blender until fine, almost flour like consistency
In a medium bowl, combine the blended oatmeal and add in the remaining oats (1/4 cup instant oatmeal & 1/2 cup old fashioned oats)
Add in all remaining dry ingredients — expect Chocolate chips & seeds
In another bowl, mix in all wet ingredients (no order preference)
Slowly combine the dry ingredients into the wet ingredients
After the batter is completely mixed, add in chocolate chips
Scoop batter in small balls and place on greased baking sheet
Add the pumpkin seeds on top, and gentile press them into the cookies
Bake the cookies for 15-20 minutes, until they start to develop a crisp on the outside (browning is okay)

ENJOY WITH VANILLA ICE CREAM (Or vanilla coconut yogurt for a healthier alternative) 
Let me know what you think!!!
Xx, 
Marissa